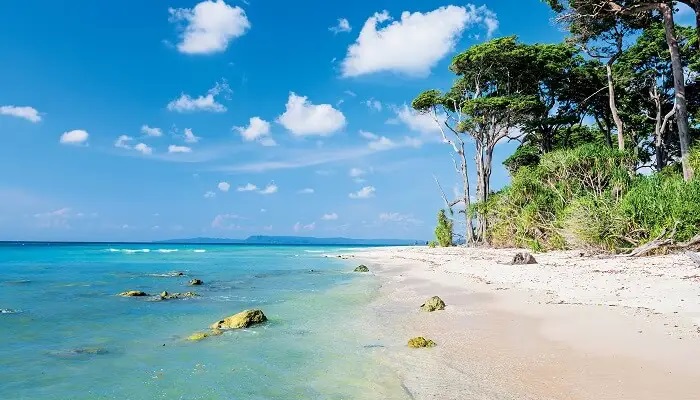 Andaman and Nicobar island has approximately 600 small or Big islands, and almost all of them have beautiful beaches. Andaman's most striking thing is its reefs, pushed up in the numerous sandy islands, flat waves, sparkling blue seas charming cottages & huts and thrilling water sports lure tourists to go for Andaman Holiday Packages. While there are some extremely common and captivating beaches that are packed with visitors, some are quiet and serene beaches and are appropriate for newlyweds private Andaman holidays. Andaman is an excellent destination for Beach holidays as it has an abundance of magnificent beaches, we've compiled and hand-picked list of the best ones for you. Take a look before you plan your Andaman holiday.
Beaches of Port Blair;
The beaches of the capital island-town, Port Blair, come first. Such beaches are well-known for the attractive elegance they bring. Take a swim or see the magical sunset at these Andaman's best beaches:
#1 Corbyn's Cove Beach: Lined with lush coconut groves, Corbyn's Cove is one of Port Blair's most lively beaches. One can enjoy a recreational stroll, enjoy water activities, enjoy the beach shacks, or take a boat ride up to Snake Island. The beach's peace and calmness will win you over.
Famous for: boating, scuba diving, jet ski, sailing, sunbathing and surfing are some of the activities that can be done in Corbyn cove beach.
#2 Wandoor Beach in Port Blair: This coral beach is one of the most beautiful and famous Andaman and Nicobar beaches in Andaman. The beach is the entrance to the Mahatma Gandhi National Marine Park -a perfect place to see beautiful corals and marine fauna. This beach is a haven for artists and nature lovers and is visited for calming walks by visitors.
Popular for: Glass-bottom boating and scuba diving under skilled supervisors at Beaches of this island's
Havelock Island Beaches:
Beaches on Havelock islands are the best and Popular beaches of Andaman island. With its captivating charm, it lures holidaymakers and honeymooners. Here are some of the beaches you can enjoy on your holiday in Havelock.
#3 Radhanagar Beach in Havelock: Beach No 7 of Havelock islands, generally known as Radhanagar Beach-is one of Asia's best beaches. It was regarded by the Time Magazine as India's best beach and the 7th best beach in Asia. The turquoise waters and lush palm foliage, and glittering white beaches make it a perfect place for a peaceful walk. Any Andaman Holiday Package must keep some space for a trip to Radhanagar beach. This beach is Famed for snorkeling, surfing, fishing, sports, and scuba diving.
Elephanta Beach: Elephant Beach is one of the most well-known Andaman and Nicobar beaches. Positioned on the island of Havelock, you can reach Elephant Beach by a short boat ride or a 40-minute jungle trek. This beach has excellent facilities for water sports and your Andaman holiday itinerary must find some space for a trip to Elephanta Beach.
#4 Vijayanagar Beach in Havelock: Broken branches of trees on the transparent sand of Havelock Island's Vijayanagar Beach Also known as Beach No 5, Vijayanagar Beach is one of Andaman's finest beaches. The water is safe and warm and good for swimming and surfing. It's beautiful setting, azure waters, lush coastal Mahua trees, and calm landscapes provide a pleasant holiday.
Celebrated for: boating, diving and taking photo sessions.
#5 Kalapathar Beach in Havelock:
The cool waters and plants at Havelock Islands Kalapathar Beach will take you off your feet. If your description of an Andaman holiday is solace & serenity, Kalapathar Beach is the place to be. The green water and silver sand render it one of the outlandish and most tempting Andaman beaches.
Beaches of Neil Islands:
Beaches of Neil Islands are Renowned for sunbathing in hammocks, relaxing, reading a book, or simply enjoying the beautiful scenery of Neil Island. This island in Andamans is well-known for its scenic beaches, which provide views of turquoise water and white sand. Bring some Neil Island beaches on your list:
#6 Laxmanpur Beach: Located on the long stretch Village of Laxmanpur, this seashore is worth planning a tour during your vacation in Andaman. The fact that very few tourists visit the beach and the loveliness of its white shell sands & shallow waters make it enthralling for an Andaman honeymoon. Collect corals and seashells while on the beach exploring as they are found in abundance on this beach, but do not carry them home as it is strictly prohibited by law.
Laxmanpur beach is famous for watersports, swimming, and snorkeling
#7 Sitapur Beach: This excellent Andaman Beaches. Situated at the tip of Neil Island, is perfect for a fun-filled holiday. The large strip of luxuriant plants, white sands, crystal blue waters, and magnificent natural beauty improve the place's charming quotient. Neil Island is known for majestic and photogenic topography.
#8 Bharatpur Beach: Deep blue waters as seen from Bharatpur beach on Neil Island gives the name of Neil (Nila)to this Island. Bharatpur beach ranks it among Andaman's best beaches for the spectacular views over the green sea it provides. The vast beach has rich coral reefs and it's also a great place to swim.
Baratang Island: Just a few kilometers away from Port Blair, Baratang island is renowned for its, mud volcanoes, mangrove creeks and calcareous caves, this island between middle and southern Andaman has stunningly beautiful beaches.
#9 Diglipur Island Beaches: Diglipur is around 10 hours away from Port Blair and is situated in the North Andaman Island, and it is not deficient in attractive beaches. Have a good time enjoying the most popular beaches here:
#10 Kalipur Beach: The scenic beach offers astonishing views of the Saddle Peak and the sea, which augment the shore's grandeur. If you want to enjoy watching tortoises make their way to the sea, when they are born from their nests, you can definitely come here
This beautiful island is Famous for trekking to Saddle Peak and Spotting sea turtle and a sand bar connecting two islands namely Ross and smith islands.
Multiplicity and diversity of Island will leave you confused about where to go and not go, as such you should consult your travel architect to devise a good Andaman tour itinerary to suit your needs. You Andaman tour with Kalipur should be planned with ample time in hand, and designed in consultation with your Tour operator.