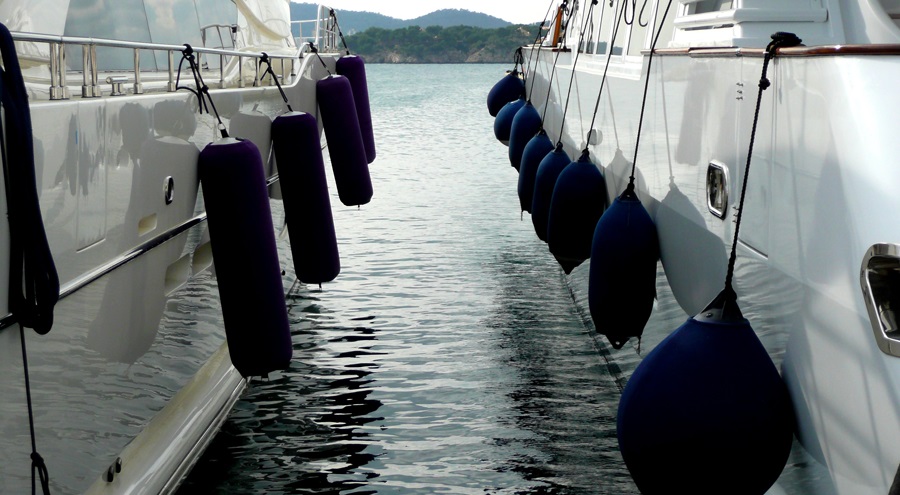 When purchasing a boat, you will typically end up also buying some necessary equipment to get started. To start, you will need a few basic things such as a safety gear kit, extra dock and anchor lines, a radio, and a flashlight just to name a few. If your boat will be docked at a public Marina it would be helpful to purchase dock carts. Dock carts will help you transport gear to and from your boat and also act as storage for gear when not in use. Another important piece of equipment is a boat fender. A boat fender is a type of bumper that is attached to the boat itself. They are typically made of rubber, foam, or plastic. A fender protects the boat from bumping into or rubbing up against other vessels, jetties, and walls.
There are several different types of boat fenders, so it is wise to review each one before deciding on which to purchase. To start it is wise to identify the type of boat you have and what size fender you might need. Some fenders may not fit your type of boat so eliminating a few that way will help. They come in all shapes and sizes so it's just a matter of finding the right size for your boat. For some people the color of the fender is very important. If color coordinating is important to you then selecting a color first is a good place to start. Below are a few different types of fenders with brief descriptions to make the decision-making process a little more easy.
Round Fenders (or ball fenders) – Round Fenders are air filled plastic round type cushions. They are available in many different colors and act as a cushion between your boat and other vessels, docks, or walls. They work well with pretty much any type of boat but are typically used on larger vessels.
Narrow Fenders – Narrow boat fenders tend to be long and thin and work well in small areas. They tend to be used for canal boats where space is usually limited.
Bow Fenders – A bow boat fender fits on most boat bow shapes. They protect the bow of the boat. Even though they tend to fit on most bow shapes, check to see if yours is compatible before purchasing.
Inflatable Fenders – Inflatable boat fenders come in all shapes and sizes. They are made of rubber and filled with air to protect most any type of boat and absorb the shock between your boat and any other object it may encounter.
V-shaped freedom Fenders – V-shaped Freedom Fenders have a self-centered shape and will typically stay securely on the piling through any movement of the boat. They are made for small boats all the way through large yacht sizes.
When researching all the different types of fenders you may come across dock bumpers. Be sure not to confuse the two. Their purposes are very similar however, they are different. A dock bumper does not attach to your boat, it attaches to the dock. The dock bumper, for the most part, performs the same duty as the boat fender however it only protects the boat from bumping up against the dock. The fender on the other hand is attached to the boat so it can also act as a protective bumper between boats, jetties, and other solid objects, not just the dock.
A boat fender is a very important piece of equipment that protects your boat. It aids in the longevity of your vessel as it keeps your boat safe from damage. The different types listed above are just a few of the many different types of fenders. Take your time to research before purchasing. Be sure to make sure you select the fender that will treat your boat the best!